Vibration Damage and Your Home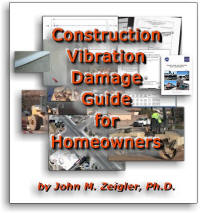 Vibrationdamage.com is the original, current, and supported source of the free Construction Vibration Damage Guide for Homeowners (CVDG). It is written in layman's language, for people who may have experienced construction damage from vibration (cracking in walls, damage to mechanical systems, doors and windows misaligned, damage to concrete and concrete blocks, exterior stucco cracks and more) in their homes or properties and want to know how to proceed. It also gives tips for those who may have construction pending in their area and want to prevent damage.
The regularly-upgraded CVDG helps place people concerned about construction vibration damage to their homes and property on a more equal footing with those who may be responsible for the damage. The pages here are directed mainly at homeowners. But, the site has in-depth scientific information, original research, and analysis that responsible construction companies, attorneys, consultants and others with an interest in vibration damage, monitoring or construction damage claims may find useful, too.

Vibrationdamage.com is mobile-friendly.
---
Help for Homeowners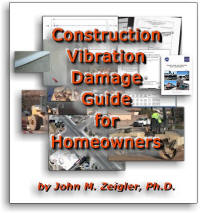 Vibrationdamage.com offers to homeowners one free, personal, non-business-use copy of the over 100 page Construction Vibration Damage Guide for Homeowners (CVDG), to view or print, either as a series of individual web pages or in full in PDF format, with added content, minus ads and web navigation. The Guide covers pre-construction, recognizing and documenting damage, dealing with the construction company, litigating vibration damage claims, understanding vibration monitoring and much more. It discusses the science of vibration damage to structures in layman's language (high school or equivalent, Flesch-Kincaid readability score of 45, Flesch-Kincaid Grade Level of 12). The Construction Vibration Damage Guide Professional Edition has the additional, comprehensive content that those who are involved in litigation of damage claims, consulting and research will need.
Read or Get the CVDG

126 pages, expanded content,
navigation and ad-free
Edition 3.2 (New)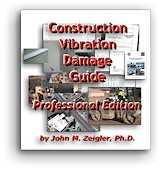 The CVDG Professional Edition, not provided online, but obtainable through our Order page, has comprehensive information (nearly 300 pages in length) with greater technical content. It is designed for attorneys, contractors, project sponsors, consultants and those homeowners who need or want to understand more, for example, in potential litigation settings. Both versions of the CVDG and Vibrationdamage.com are regularly expanded and upgraded, so visitors should check for upgraded and new content occasionally.
Our pages are written by Dr. John M. Zeigler, a published and award-winning scientist, author, holder of over 30 U.S. and foreign patents, expert scientific witness and construction vibration damage consultant.
Thanks for visiting!

---
Disclaimer: The pages and documents on Vibrationdamage.com are not offered, and should not be considered, as advice or counsel on the law in any jurisdiction or form. Seek the advice of an attorney having construction vibration damage claim experience and knowledge, if you need legal help. Trademarks appearing on the site and in the CVDG are the properties of their respective owners and are used in the CVDG only for the purpose of identification. Information appearing on the site and in the CVDG is believed correct, but the site and the CVDG are provided "as-is". They are not guaranteed or warranted in any way, nor are your uses of them warranted or guaranteed.